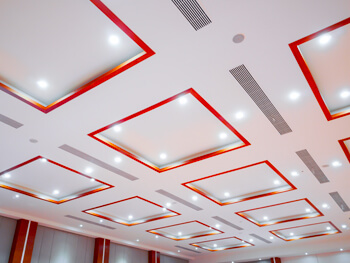 Sustainability efforts are at the heart of all Shambaugh services.
Our team has experience developing and installing energy-saving systems and is on the cutting edge of a number of quickly growing sectors of electrical construction, such as solar panel and electric car charging station installation.
Shambaugh is also well versed in energy and power optimization, as well as bottom line reduction and enhancement.
Energy Saving Systems
Helping customers achieve their energy saving goals is at the forefront of Shambaugh's electrical services. We perform evaluations of lighting and lighting control systems, provide building automation services, install mechanical control systems, and offer custom turnkey solutions tailored to our customers' unique needs.
We also specialize in retrofitting existing light and power systems. Shambaugh can assist in the sourcing of the necessary documentation to allow our customers to take full advantage of utility rebates when applicable.
Peak Shaving and Power Factor Correcting
Shambaugh can help battle high utility charges resulting from power factor lag or phase shift by providing turnkey solutions engineered to reduce the bottom line and remove often-surprising charges that can result from unpredictable power needs.
Energy Efficient Design-Build Capabilities