Dairy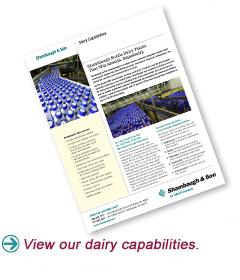 Shambaugh & Son (Shambaugh) has completed extensive work for the dairy processing industry, including large-scale plant design and construction as well as small, more modest installation projects.
Shambaugh is a single-source, vertically integrated, Design-Build Construction Engineering firm offering process, mechanical, electrical, refrigeration, fire protection, security, and communication services.
Shambaugh has provided Design-Build services for many award-winning dairy processing plants. On multiple occasions, facilities designed by Shambaugh have won US Dairy Plant of the Year, including in 2015, when Kroger Mountain View Foods was selected for the award thanks to the plant's advanced material handling technology. Most recently, in 2018, Shambaugh designed and built Dairy Farmers of America's Garden City plant, which Food Engineering magazine named the "Sustainable Plant of the Year" in recognition of the plant's outstanding sustainable engineering features.
Shambaugh focuses on providing clients with facilities that offer innovative value, such as cutting-edge water recycling systems, 24-hour process capabilities, and material-handling design for increased process flow. Additionally, in-house prefabrication capabilities help Shambaugh meet fast-track construction deadlines and complete expansions while minimizing disturbances to a plant's regular production process.
Shambaugh's dairy services include, but aren't limited to:
Process and automation systems
Complete power, lighting, and controls
Complete plumbing, mechanical, fire protection, and utility system design and construction
Ammonia refrigeration systems with state-of-the art controls and ammonia detection
Architectural, civil, and structural systems
Cold storage freezers and coolers
Prefabrication services featuring 3D computer modeling software
Waste water treatment
Reverse osmosis (RO) boiler systems
24-hour milk processing capabilities
Sanitation systems
Receiving, storage, and sanitation
For further information on Shambaugh's dairy design-build services, contact us today.