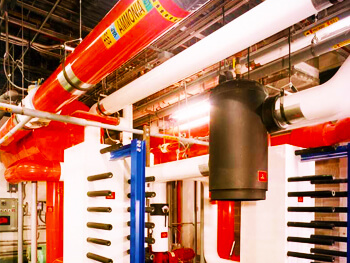 Shambaugh's Refrigeration Group designs, builds, commissions, and services large, centralized industrial refrigeration systems for process cooling and storage applications.
Installations primarily use anhydrous ammonia as the refrigerant, along with secondary refrigerants including CO2, propylene glycol, and calcium chloride.
We have some of the broadest refrigeration capabilities in the country, and our project execution model spans from smaller, stand-alone refrigeration projects—like single-stage systems for commercial clients—to large multi-divisional, single source design-build projects— such as expanded ammonia systems for cold storage warehouses.
Proven Refrigeration Excellence
Our depth of refrigeration experience is virtually unmatched in the industry, and we have earned a reputation for outstanding engineering and the highest levels of quality and service. Our leadership team combines for over 70 years of experience in the industrial refrigeration industry. As a testament to our quality, we have worked with some the nation's most high-profile organizations, including Kraft Heinz, Keurig Dr Pepper, Unilever, Nestle, and General Mills.
Why We Use Anhydrous Ammonia