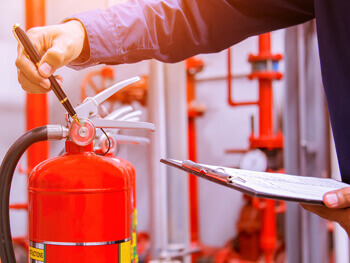 Shambaugh provides a number of fire extinguisher services, including inspection and testing, recharge, sales, and installation.
Whether clients have questions about fire extinguisher size and type, how many are needed, or where they should be installed, Shambaugh's trained and certified experts are ready to answer any question that arises.
The first line of defense
Portable and wheeled fire extinguishers are the first line of defense in many fire situations, so proper inspection and testing is paramount. Shambaugh's fire extinguisher inspection and testing service helps ensure client's fire extinguishers function properly when needed.
Commercial fire extinguishers (Classes A, B, and C) require the following inspections by a licensed fire protection company, like Shambaugh:
Annual Inspection: During the annual inspection, Shambaugh technicians make sure that each cylinder is maintaining the proper pressure, contains the required amount of extinguishing agent, and that all external parts are in working order.
6-Year Maintenance: For the 6-year maintenance check, all of the working parts are broken down and inspected. Technicians remove all of the contents of each extinguisher. Components are then disassembled, cleaned, lubricated, and replaced if found to be defective. Extinguishers are then re-filled and recharged.
12-Year Maintenance: During this inspection, technicians perform all of the requirements of the 6-year inspection as well as a hydrostatic test of the cylinder. Hydrostatic testing is an expansion test to help ensure extinguishers can safely hold pressure.
Trained and certified Shambaugh fire extinguisher technicians visit client buildings to inspect and service fire extinguishers ranging anywhere from one to hundreds of fire extinguishers in a day. At the end of the service, each extinguisher is then equipped with the required tag to satisfy local fire authorities and insurance providers.
For more information on Shambaugh's fire extinguisher services, contact us today.