At Shambaugh, our automation engineering group is vertically integrated with our other departments, working closely with our food process, mechanical, electrical, fire protection, and fabrication teams to provide end-to-end solutions.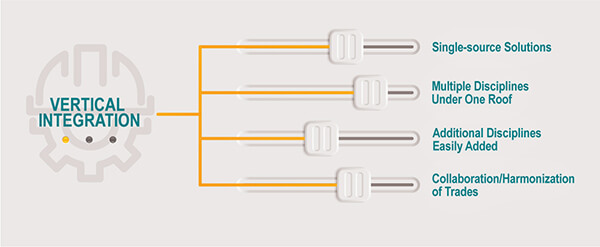 Few companies have the capabilities or expertise needed to achieve the level of effective vertical integration Shambaugh does. This approach helps promote efficiency and improve quality, setting Shambaugh apart from our competitors.
Powerful Engineering Capabilities
Our automation engineering group employs over a dozen engineers and designers with diverse and varied engineering backgrounds and many years of industry-specific experience. Although many of our automation projects are in the food and beverage industry, we often work in industrial settings and have experience in a range of environments.
With this diversified in-house background, Shambaugh's corporate-wide engineering staff—including 300+ engineers and designers—is equipped to offer customers comprehensive support for virtually any automation need.
Vertical integration benefits include: